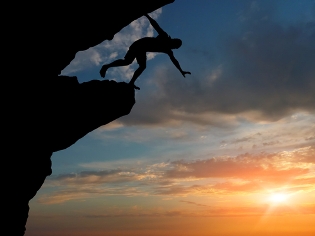 If you're younger, the greatest risk you may currently face is that you may not think that there is any "risk" in retirement in the first place. Surely the government will take care of us, right? You may not be saving enough, or you may not have started saving early enough. If so, your greatest risk may be that you don't have a plan.
For those of us who are near or currently in retirement, the risk profile changes pretty significantly.
So, is it "longevity risk"?
In previous articles, I have written about what is known as "longevity risk" – a term that the financial community has come up with to describe the risk that you will outlive your savings in retirement. According to the Social Security Administration, the life expectancy for a 55 year old male in 2016 is 83. But keep in mind that's the mid-point, some will live much longer.
"Longevity risk" is often cited as the single greatest risk that retirees face. Is that true?
Although longevity risk is a valid concern, the reality is that fear mongering is at the center of a movement within the financial services industry that could be called the, "hey, wake up, you're not saving enough for retirement" movement. Research papers, books, magazine articles, TV shows, and blog posts (yes, I've already written my share) regularly remind people of their generally poor state of retirement preparedness and the need to take action. However, some go over the top in terms of using fear to motivate people to save and invest. (And sometimes I think it's done purely from a profit motivation.)
In this blog, I try to put forward biblical principles to guide and motivate you to take the appropriate steps to plan for later life. I stress responsible, God-honoring retirement stewardship, not fear-induced actions of any kind. Although we do need to be sober-minded about this topic, I don't think fear has any place in retirement stewardship. Remember, God has not given us a spirit of fear; rather, through the gift of the Holy Spirit, he has given us wisdom and a sound mind (2 Tim. 1:7).
That being said, because we might just live a long life, Godly wisdom suggests we do need to have some money set aside to be able to live in dignity as long as we are on this earth. We need to do that even as we put our trust in God to meet our daily needs.
It is clear, then, that it is Godly wisdom to set aside something today for anticipated needs in the future (Prov. 21:20).
There are other risks
Actually, important as it is, "longevity risk" is just one of the risks that retirees face. Financial advisors talk about other kinds of risk that retirees need to deal with, which include:
Market risk: the risk that you will lose some or much of your money due to some kind of market collapse
Inflation risk: the risk that the money that you do have will buy less and less in the years ahead
Sequence risk: (also called sequence-of-returns risk) – the risk of getting lower (or even negative) returns just before or very early in retirement when withdrawals are made from the underlying investments
Expense risk: the risk that your spending need in retirement will be unpredictable
Health risk: the risk that poor health or the need for long-term care will use up our available resources
It's pretty easy to understand the risk component of these (market, inflation, sequence, expense, and health). I will address them in more depth in the future, but for our purposes in this article I would summarize them as follows:
Retirement risk is the risk that you will retire for an unknown number of years, during volatile financial market and inflation conditions, with unpredictable expenses, and unknown health issues and costs, with income that is only somewhat predictable.
Sounds pretty crazy, right? Just a big crap shoot which, from a risk perspective, could make longevity seem more like a curse than a blessing. But most people would view a long life as a blessing, so it is ironic to think of longevity as a "risk" when it comes to retirement.
Our greater longevity risk
Life, in general, is risky, mainly because there's always the possibility of the unforeseen and unexpected. We do the best we can to anticipate and plan and then trust God for the rest. Retirement is no different.
But, we can easily get too concerned about stewardship that is mainly focused on how we are going to cover our living expenses in retirement. Could it be that if God grants any of us a long life (which isn't guaranteed, by the way), it is for a reason and that our concerns go beyond just figuring out how we are going pay the bills over a long period of time in retirement?
Perhaps, instead of just focusing on the risk of outliving our money, it would be a good idea to also think about it in terms of the risk of missing the wonderful opportunities a long life affords. If we are given the gift of a long life, what will we make of it? How might God want to use us in our 60s, 70s, 80s, and perhaps even beyond?
This introduces another kind of risk that we could face in retirement: what I would call purpose risk.
I know that the "life purpose" concept can be overused, but realizing that we were created for a purpose is important – not just when we are younger and thinking about a career or other pursuits, but throughout our lives, no matter how long that might be.
The whole idea of life purpose differs for Christians and non-Christians. For non-Christians, life may be a constant search for meaning and purpose. But Christians understand that they were created by God for a purpose, and life is an ever-deepening discovery and realization of that purpose and the things that God has called us to do.
If we go into retirement with no real sense of purpose or passion about how we want to live out our lives, we are taking on an extraordinary level of risk. In an earlier article about working in retirement, I quoted part of a blog post by Randy Alcorn, a well-known and respected author, who says that having no purpose in retirement is actually dangerous to our health:
When a man retires at sixty-five, studies show his chances of having a fatal heart attack immediately double. Our minds and bodies weren't made for an arbitrary day of shutdown. Nowhere in Scripture do we see God calling healthy people to stop working. Of course, it's perfectly legitimate to work without pay. It's your option to give labor to ministry and volunteer work rather than to your present job. But as long as God has us in this world, He has work for us to do. The hours may be shorter, the work different, the pay lower or nonexistent. But He doesn't want us to take still productive minds and bodies and permanently lay them on a beach, lose them on a golf course, or lock them in a dark living room watching game shows.
Similarly, a 2013 article in the Wall Street Journal, citing studies of 1,500 men and women by the Chicago-based Rush University Medical Center's Alzheimer's disease Center, shows that having a purpose in life can help stave off cognitive decline and promote a broadly healthier, longer life.
Our longevity opportunity
There is more to this than just mental/emotional/physical health and well-being; it's also about our ultimate purpose in life. We were created by God for a purpose.
First and foremost, I would say that the main purpose of our lives is to bring honor and glory to God. We can do that in a variety of ways, depending on our unique callings and giftings. But it ultimately boils down to what we say and what we do; in other words, how we live our lives. I want to focus on the "what we do" part.
Ephesians 2:10 doesn't say, "For we are God's handiwork, created in Christ Jesus to do good works up until about age 65 or 70, or perhaps even earlier if you can afford to, after which you should just chill out and take it easy." "Chill out" isn't even in the Bible, so I'm going to take a wild guess and say God intentionally placed no limits on our lives of good works (other than the important fact that he has pre-determined that we will live for a certain amount of time).
No doubt, part of good stewardship is about making sure we have enough to provide for our families in our later years. And that may involve taking on, and managing, market risk, inflation risk, expenses risk, and longevity risk. But good stewardship also means managing our longevity opportunity – being prepared to step into the area of impact and influence God has uniquely equipped us for and called us to in our later years – in other words, the "good works" he has called us to.
What kind of good works?
This raises an obvious question: What are the good works God has prepared for us in our 60s, 70s, and even 80s and beyond?
Many of us would probably answer this question by identifying the specific things that Christians do as expressions of their faith. These would include things like attending services, praying, studying Scripture, generous giving, participating in a small group, going on mission trips, caring for the poor, loving our neighbors, sharing the Gospel, and so forth.
These are most certainly among the good works God has prepared for us, regardless of age or stage of life. We engage in these activities as best we are able throughout our lives as people who have been changed by God's grace through Jesus Christ. But, if we think of good works only in these "religious activities," we might miss the extent to which God's plan for our good works is much broader and deeper.
Let's take another look at Ephesians 2:10:
For we are his workmanship, created in Christ Jesus for good works, which God prepared beforehand, that we should walk in them. (ESV)
Note that it says that we are created for good works, "which God prepared beforehand." The original Greek is more literal, "which God prepared in advance so that we might walk in them." In the Bible, the word walk is often used to refer to a way or living, a lifestyle. So, the good works of verse 10 are not just the obviously religious activities scattered throughout an otherwise secular life. Rather, the good works encompass the whole of the Christian and his/her life, all that we do by God's grace for God's purposes and for God's glory.
Similarly, Colossians 3:17 proclaims,
"And whatever you do, in word or deed, do everything in the name of the Lord Jesus Christ." (ESV)
Therefore, though it's absolutely right and good for us to invest ourselves in the life of your church and to engage in works of outreach for the sake of the poor, the oppressed, and those who don't know God's grace in Christ (perhaps even more so when we are more "freed-up" in "retirement"), Ephesians 2:10 seems to say that we need to view our whole life as an interconnected series of good works offered to God.
This means that your good works can include that which you do at work, with your children and grandchildren, in your hobbies, in your neighborhoods, and in your community associations. If you're a parent, your good works include loving, relating to, and guiding adult children and perhaps grandchildren. If you enjoy the outdoors, you will be just as aware of God's glory on display in his creation as you are of the enjoyment you get from the specific activity you're engaging in.
As we grow older, we have a greater opportunity to see ourselves as God's masterful creations and to do everything in the name of the Lord Jesus, by his grace, in his strength, under his authority, and for his purposes.
Putting it all together
Thinking about retirement stewardship in this way may help us plan better and save more, and also better manage the "risks" in retirement, thereby turning what often feels like a difficult duty and obligation into the preparation for a grand future adventure doing the things that God prepared for us beforehand so that we could walk in them, in this life and in the life to come.
What vision do you have of what God has prepared for you in your later years?